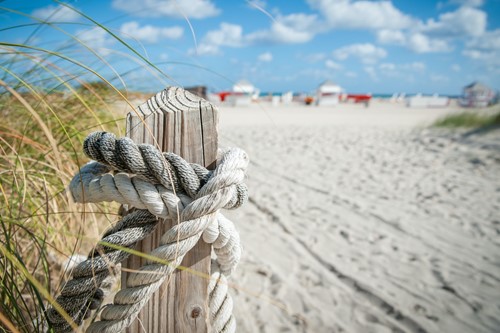 If you're looking for a comfortable, casual way to bring the beach home with you any time of year, coastal design style might be for you. This airy and approachable interior design style celebrates all the best the coast offers: sun, surf, sand and a relaxing yet invigorating atmosphere. While coastal design varies depending on region and preference, there are some basic elements you'll want to use as your guide. Here we'll go over the essentials of coastal design and decor so you can use it in your own home.
Neutrals & Blue
Coastal design takes its inspiration from the ocean, so it's no surprise that the color blue is essential to the style. Whether you accent with blue or make it a primary color choice, the key to any coastal design space is the color of the ocean. Light neutrals are also popular and combine well with blue to create a fresh and energetic look. Opt for mixed shades of white, cream, sandy beige and light browns. For a sophisticated but traditional twist, mix navy blue with bright white, or go more boho with a foggy grayish blue paired with rich wood tones.
Comfortably Casual
Coastal style is casual and laid back. You'll see this represented in fabric choices, furniture style and room layouts. Linen and cotton are essential fabric choices for a relaxed, beachy vibe. Opt for fabrics with comfortable textures but that are resistant to wrinkles. Mimic the weathered look of driftwood with unfinished, faded wood furniture and accents to make the space feel lived in but not worn down. Wicker furnishings are a lightweight and practical way to add casual charm. Placing your furniture in ways that promote conversation, lazy afternoons and sharing home-cooked meals will go a long way in creating the perfect beach house aesthetic.
Look to Nature
For decor, think about the textures found in coastal areas. You can either use the same materials or simply mimic them with others for a more personal or modern take on the style. Think heavy rope in knots, delicate netting, coral, shells and sea glass. The more natural elements you can combine in your decor the more authentic your coastal setting will feel. You can also carry this concept through things like wall art and other decorative accents. Frame old-fashioned scientific drawings of sea creatures or shadow boxes filled with shells, stones and other curios. Paintings and prints of the ocean and boats are never a bad idea with coastal decor—try putting together an eclectic gallery wall to collect your coastal "findings" all in one place.
These are just the basic tenets of coastal design style and you have lots of room to be creative. The most important aspect of this style is to bring the beach indoors no matter how far away the beach might be. Draw inspiration from your local environment or environments far away and combined with the above tips you will create a perfectly comfortable coastal getaway in your own home.