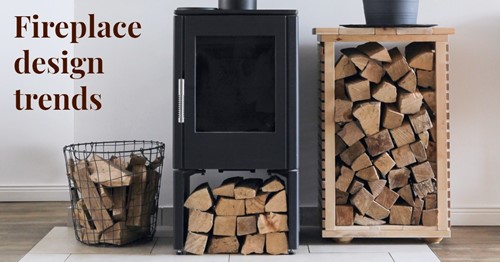 When interior designers or architects design fireplaces, they often go with the classic brick fireplace or a timeless marble fireplace, which often serves as the focal point for a living room or dining room. But homeowners may be looking for fresh fireplace ideas that step outside the traditional setup, or want to explore new ways to spruce up their current sitting area with real fire as design inspiration.
Regardless of your style, design choices or current decor, there is a fireplace style that can pull your rooms together. Here's a brief guide to four of the most timeless fireplace design trends:
Frameless
Frameless fireplaces are great for those incorporating a bit of sophisticated ambience into their living room or large sitting area. These fireplaces frequently utilize marble, stone, tile or other hard, fire-resistant materials to build simple yet bold fireplaces.
They fit seamlessly against modern and contemporary decor ideas, and tend to come in black, white and neutral colors, though bold hues and painted tile may also be available from certain suppliers.
Frameless fireplaces also come in electric variations for those looking for heat with a bit of artwork tied in.
Convertible
Convertible fireplaces are excellent when it comes to versatility and year-round design prowess. These fireplaces allow you to create an inviting area while giving you the option to use a crackling wood log as fuel, or simply enjoy the warmth of a gas fireplace with less cleanup.
These fireplaces also come in handy if the firewood season has been particularly wet. For those looking to diminish their gas bill, switching to wood during great harvesting seasons can help you do just that.
Corners
Corner fireplaces come in different sizes and types. Often great for maintaining the contemporary vibe, these fireplaces come adorned with sleek lines, soft ambient glows and are a perfect fit for those with exposed beams or other structural elements within the home.
Like frameless fireplaces, these can come as traditional fireplaces or electric variations.
Indoor/Outdoor
Possibly one of the most interesting in fireplace design, indoor/outdoor fireplaces utilize a shared wall for indoor and outdoor spaces. They usually come in traditional finishes such as brick or marble. For those with a design edge, try employing a rustic mantel outdoors, while a soft and memory-laced mantel adorns the interior working of the indoor segment.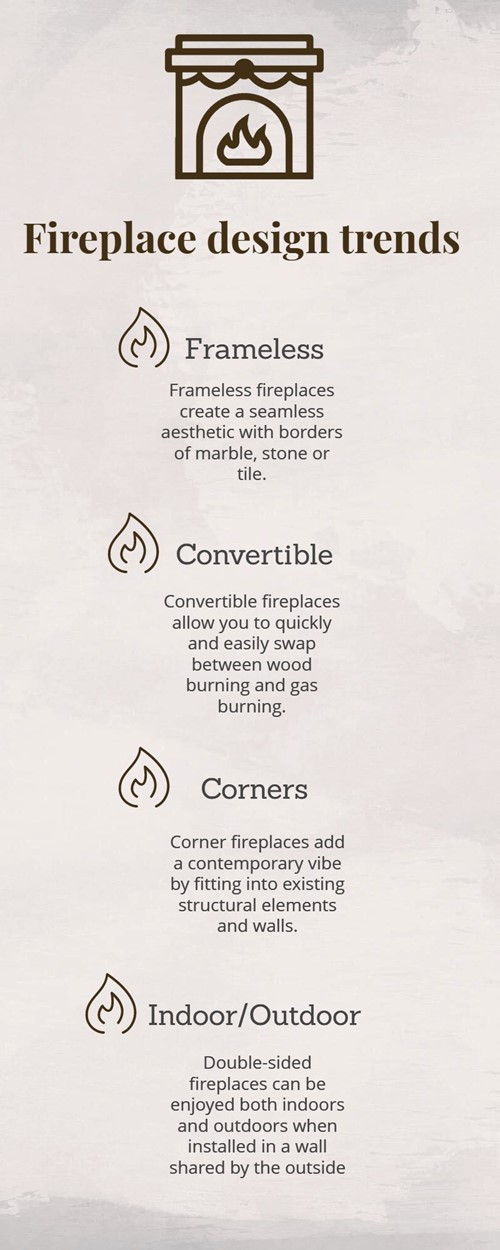 Fireplace designs are ever-changing as innovation plays with decor and design features. You may find that one of these four fireplaces is precisely what you're searching for to pull your ideal room together.